About The NOAH Center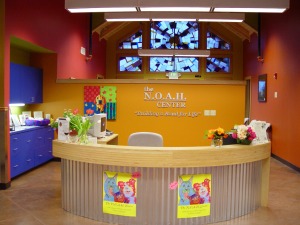 Main Features
Forward thinking research went into developing The NOAH Center's no-kill, state of the art facility. We give animals a second chance by working cooperatively with animals shelters across Washington State and only accepting pets directly from their facilities. We transfer animals into our foster and adoption programs while focusing on finding their forever homes. Our high quality and high volume spay/neuter clinic is committed to reducing the pet overpopulation problem by providing low-cost surgeries 7 days a week.
The NOAH Center offers:
• A customer-friendly and guilt-free adoption environment where all adopters are treated as guests and the animals are guaranteed a new home.
• An intentionally designed facility which provides a pleasant and inviting atmosphere complete with abundant natural lighting, bar-less dog suites and cat colonies, and odor free visitor areas.
• State-of-the-art spay/neuter clinic with fully equipped surgical rooms. We offer free or low-cost spay/neuter services to pet owners who qualify for low-income surgeries. We offer free feral and free roaming cat spay/neuter surgeries 7 days a week.
• Wilderness trails throughout 17 acres of beautiful forests offers a safe walking environment for The NOAH Center animals and the community.
• Our programs our designed to significantly reduce unwanted litters, promote responsible pet ownership, and provide opportunities for community members to volunteer and be an active voice for the animals.
Our Community
We strive to promote our programs and encourage a positive community spirit of pet and human relationships through:
• We provide resources to help educate our adopters and public.
• Our phone lines are open daily and you are always greeted by the voice of one of our wonderful volunteer receptionists.
• The NOAH Center's well stocked Retail Shop provide immediate access to pet supplies while raising funds for our programs.
• In-house and off-site informational presentations are given throughout the year to Rotary and Chamber of Commerce members, workplace giving venues, and other community service clubs.
• Staff and volunteers provide tours for other animal welfare organizations seeking advice about opening or improving their existing facilities and programs. Our building blue prints are made available for a small fee.
• Through social media, electronic newsletters and two printed newsletters per year, with a mailing list of over 8,000 community members, we are able to increase awareness about our mission.
• We have a commitment to telling our story through The NOAH Center's 'Happy Tails'
• Fundraising events are offered to the community throughout the year. Laugh Your Tail Off, Music For The Animals, Howling Big Garage Sale, Bake sales, 'Little Sips' Wine Tasting, 'Tiny Tails' Foster Baby Shower and many others help raise money for the animals.