Happy Tails
Read about some of our furry friends' success stories; animals who have found loving homes thanks to The NOAH Center!
We love to hear from our adopters! Send us your happy tails and pictures of your pet adopted from The NOAH Center. Please email them to adopt@thenoahcenter.org.
---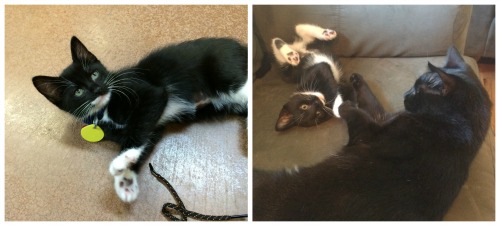 Hi there,
Just received a phone call to follow up on the kitten that we adopted a couple weekends ago. We have named him Charlie and he has become a great addition to our family. We already had another kitty, Jax, who was a year old and we wanted to get him a buddy. At first Charlie and Jax had a little bit of rough start- Jax wasn't so sure about this new kitten, however they have found their way and now I often find them playing together. At first Jax was a little aggressive with Charlie so we would only let them play together supervised- however, I now find that Jax is actually the one that needs a break from playing with Charlie :) and when play time is over they cuddle and give eachother kisses and constant purring between the 2 of them- here are a few pics of Charlie, one being with Jax!
Thanks for checking in- we love Charlie!!
~ Tara & Casey
---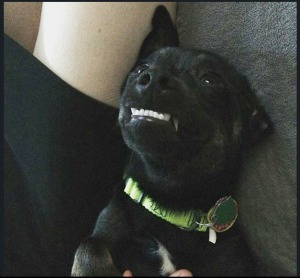 It's been almost three months since my husband and I adopted Ferdinand.  When we met him, he was pretty quiet and reserved, he had no interest in toys or play. He was mostly just observant, watching everything and everyone.  He was like that for the first couple of weeks that we had him.  But then, he finally became comfortable with us and began to let his personality show.  He is so playful and so affectionate.  He loves people and he's really been improving his social skills with the other dogs that live around us.  He has brought so much fun and so much laughter to our lives, we cannot imagine life without him anymore.  Plus, his underbite makes it look like he's smiling all the time!   Thank you so much NOAH!
-Ashley and Brian
---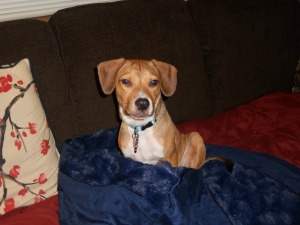 Hi,
You might remember me, although I wasn't with you very long. My name then was Guster and I was adopted on November 21 by Ann and Jerry Distefano of Marysville. They fell in love with me immediately. I initially had accidents in the house, but then my Dad put in a doggie door to the enclosed back yard. I have lots of fun back there. I still get into a bit of trouble for chewing the wrong things, like the carpet, shoe laces and blankets. But Mommy has bought me a bunch of chew toys, so I'm trying real hard to avoid ruining good things. I don't bark a lot and I'm still spooked by loud noises. Mommy and Daddy's grandchildren come to play with me often. I have a lot of fun with the 3 year old. She really likes me. Mom praises me for being very gentle with the little ones and big people two, although I need to lighten up on the licking. At night time I sleep in the big bed with them. I have grown since you saw me last and have learned a lot of new things. Mommy takes me for long walks almost every day. I get up early with Daddy and he feeds me breakfast before he goes off to work. When he's gone I miss him during the day. The next time we head up your way we'll try to drop by and say hello.
Love,
Gus
---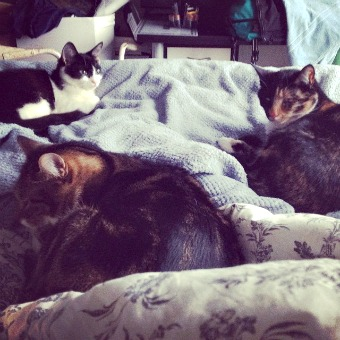 Hi N.O.A.H. folks!
I just wanted to give you an update on Tiny Tina (top left in the photo). My coworker at SVS-Jessica D.-works at NOAH as well, and had suggested I come in to meet Tina. I'm so glad I did! Tina has integrated wonderfully into my household of rescued kitties, and is a loving, energetic, and feisty lady! Thank you so much for helping this special needs kitten. After seeing both a neurologist and an internal medicine specialist, she has a good prognosis for a normal life. We have put her on a high calorie growth diet and she has gained nearly 3 pounds! She's behaving like a normal kitten now, despite sometimes being unsteady on her feet. Thank you again for bringing this perfect little kitten into my life <3
Morgan
---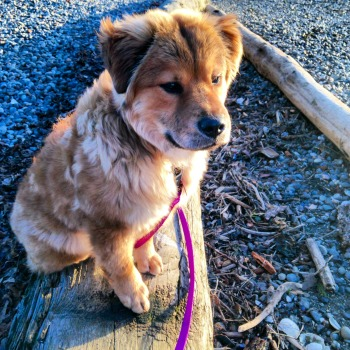 Hey there! It's been almost a year now since my husband and I have adopted Harriet, the chow mix, that we now call Annie. And its been GREAT! She loves the beach, going "vroom vroom" in the car, going on our boat, collecting multitudes of socks from around the house and piling them up into a mountain, summitting mountains, her giraffe, and her "cousins" Dax (6 year old great dane) Boogie (3 year old pit bull) and Cody and Shelby (1 year old giant schnauzers). She does very well with autistic children and provides great therapy to them. She not only is fun for them to play with and calming to pet, but she's also an incredible help for encouraging them to communicate and ask questions with both eachother and with passers-by. She's been the highlight of our life and we're so thankful to have been able to find her through your wonderful organization. The work you guys do is amazing, we applaud your hard work and dedication. Thank you for bringing her into our lives.
Sarah and Charlie
---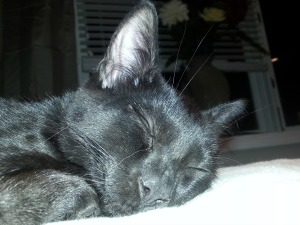 Dear Friends at NOAH,
Thank you for your support and care for our little stinky boy. A few months back we adopted a little black cat named Tristen and brought him home to Port Coquitlam BC. He now goes by the callsign "Merlin" King Arthur's wizard... I had just recently lost my Sammy to kidney failure after a wonderful 16 years as my baby boy who travelled the world with me. I swear that Sammy guides him from afar or perhaps black cat characteristics are typical but I see similarities.  I just wanted to let you know he's doing just fine and has already taken over!
Thanks again,
Ron (& Susi)
---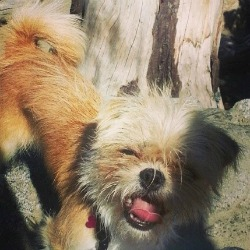 Suzy From Adopter, Whitney
When my sister and I first came into NOAH we came just to look and see what was available for adoption. That's when I saw Suzy...a small and quiet pup with a face only a mother could love. (And I do love her beyond words!!) I always call her my little gremlin (see attached photos). She has been amazing and is adjusting great...spoiled more than ever!! Thank you again to all the amazing staff at NOAH! You all do an amazing job and made it a great experience bringing my new baby home.
---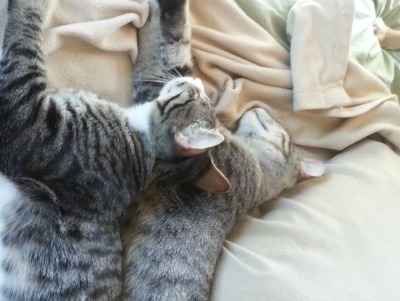 Spock and McCoy
From Adopter, Laurie
Just wanted to let you know the boys have settled in great. They like the dogs and the dogs like them.  The cat is still warming up…he wishes they would slow down so he could get a better look and smell.
---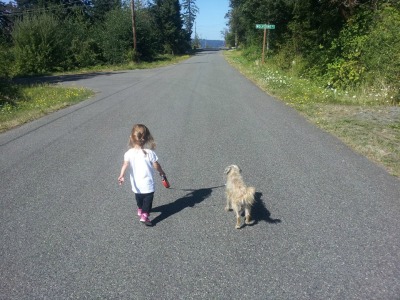 Suki
From Adopter, Nesrin
My family and I came into look at all of the animals earlier this week. We crossed paths with Suki and felt very drawn to her, my son especially. We decided to take that chance and commit to her. We wanted to share her experience thus far. She made herself at home within the first hour. She found her favorite spot on the sofa, which is on top of the sofa, and later that night she sampled each bed like Goldilocks...with my son's as her favorite. She's blended into our family seamlessly and is such a good girl with my small children. She loves cuddling on the sofa, which is my favorite part and she's very smart, which is my husband's favorite part. Everyone in the family has benefited from her, and by the way her tail wags, I think she's happy to be here. We just wanted to thank you and let you know that she's doing great and we look forward to a very long, healthy and happy future with our new girl.
---
On March 27, 2013, The NOAH Center hit a major milestone. We adopted out our 20,000th animal since opening in 2003! Everyone had their opinion of whether a cat or dog would be the lucky 20,000th and it seemed a majority were convinced it would be a dog. Alex proved them all wrong!This beautiful six year old Maine Coon mix worked his magic and won the heart of Haylee. Haylee was thrilled to find her feline friend but never expected the hoopla that followed. She was awarded a basket of goodies for her new family member and a certificate to commemorate her role in The NOAH Center's history.


---
Sully (Previously Murphy)
From Adopter Jessica
We adopted Murphy, now called Sulley, (thanks to my two year old) in June. He is the most amazing cat I have ever met, and he and my son are the definition of best friends. They are never found without the other one nearby. They "play cars", spy on the neighbors, and take naps together... and Sulley will monitor my son's bath time and even help tuck him into bed every night. There is simply no better cat in the world then him. Thank you for helping us find him!
---
Frosty
From Adopter Lori
We found our best friend, Frosty, at NOAH two years ago! He has brought so much joy to our family. Thank you NOAH!


---
Maci (Previously Dinah)
From Adopter Lisa
Hi NOAH Family! We just wanted to show you a picture of a "Dinah", whom we adopted in July. She is doing GREAT and is happily known as "Maci." We absolutely *love* her, and are so glad we found her. Keep up your wonderful work!!


---
Molly
From Adopter Melissa
Just wanted to let you all know that Molly is happy and doing well. I can't imagine our family without her. Thank you for our sweet girl.


---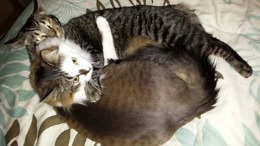 Beau & Arrow
From Adopter Carol
One year ago today, I met and fell in love with Beau (formerly Draper-on the right in photo) and Arrow. They were not siblings but are best of friends. They also love my 16 year old female, Kiera, who has cancer and she adores them. Almost every morning I wake up with one on my head and one in each arm! The boys are totally crazy and make me laugh every day! I'm so lucky they picked me! (Well, Arrow picked me and we decided that "Draper"/Beau would be a good partner for him!). Thank you so much for what you do.


---
Roxie
From Adopter Karen
We adopted Roxie from NOAH back in October 2006. Here she is about a month ago, enjoying herself at the beach at Cape Blanco, Oregon. Thanks so much for saving this sweet, fun dog! She's been a blast.


---
Mojo
From Adopter Melissa
My sweet new baby is fitting right in. Mojo decided that I was not working on my computer. Also took Mojo for his first vet visit. He's happy and healthy. And has to lose a little weight, he's a whopping 16.2lbs. We love him so much.


---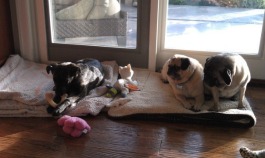 Buffy
From Adopters Mike & Gaylen
Dear Noah,
We want to give you an update on the fantastic puppy we adopted Nov. 7, 2013 from you. We were there the day you put the new Shepherd mix puppies out - we picked the little girl you had named Buffy. We brought her home, introduced her to the house, yard and her two dog siblings - our Pugs' Ace and Piper. They have all been doing very well together, and we renamed the puppy Lucy. She had her first puppy exam with our local vet and they confirmed she is healthy. Lucy is smart - and very sweet! We think she is fabulous ... maybe the smartest and prettiest puppy in the world! Thank you for the wonderful experience at your facility. Your group of people were good, knowledgeable and we could see how you all love the animals.


---
Barnaby
From Adopters Ashley & Jim
Just sending a thank you from my husband and I. Barnaby seems to pretty comfortable in such a short time. He has lived with dogs before apparently and has no problem telling them to back off. He will be just fine here rest assured. We appreciate you guys for staying late while we visited and made our decision to adopt him. Thanks again...