Feral Cats
Feral and Free Roaming Cats
The NOAH Center offers FREE spay/neuter surgeries for feral and free roaming cats 7 days a week. As part of the national marking system, the tip of one of the cat's ears will be humanely marked to identify the cat as already altered.
Please call (360) 629-7055 to schedule an appointment for your feral or free roaming cats. All cats will be returned to their caregivers the same day as surgery. The NOAH Center cannot keep cats for adoption.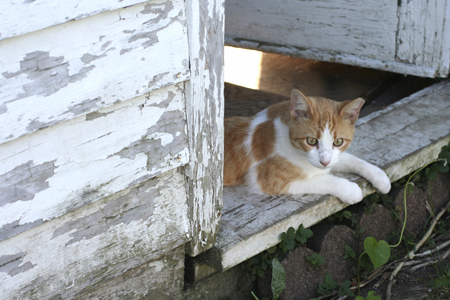 Cat Trap Rentals
Cat traps are FREE to rent. A $50 refundable CASH deposit is required. Checks or Credit Cards are not accepted. Upon return of the trap, your deposit will be mailed to you in the form of a check.
•Traps are rented in two week increments.
•The NOAH Center cat traps are to be used for trapping feral cats for "Trap-Neuter-Release" (trap the cat, spay/neuter, return and release the cat back to its original home area; with a caretaker to monitor the cat throughout its lifetime.)
•The NOAH Center cat traps can also be used for moving feral cats from a specific area where they may be in danger, causing harm to other animals, or have been injured.
•Traps are NOT available for rental if you are trapping domesticated cats or for transporting feral cats to local animal shelters for euthanasia.
We can help! If you need further consultation on how to get started on trapping feral cats in your neighborhood, please call (360) 629-7055 and ask to speak with a staff member for basic TNR information.
Instructions for Cat Trapping
Traps should be covered at all times
Make an appointment prior to trapping
Check in for surgery is at 8:15am
Check out is at 4:30pm
Prepare trap:
Place fabric or newspaper onto the bottom of trap. Be careful not to weigh down the trip plate
Do not feed feral cats the day before trapping so that they become interested in trap
Try to trap cat within 12-18 hours of surgery
Place the trap on a level surface where the cat usually eats
Place bait (canned smelly cat food, tuna, sardines etc.) towards the back of the trap
Keep the trap covered, except for the opening
Check traps often and do not leave unattended
Place trapped cat in a protected area.  Cover the floor/ground with tarp/plastic and newspaper/towel for warmth and to absorb moisture
DO NOT attempt to handle or transfer the feral cat. If more than one cat is trapped, bring an extra kennel for post surgery recovery
Feed canned/wet food if trapped for more than 6 hours
Transport animal to the clinic in an enclosed and secure vehicle (not in the back of an open pick-up)
Post Surgery care:
Place the trapped cat in a protected, temperature controlled, quitet and safe place for recovery
Cover the floor/ground with tarp/plastic and newspaper/towel for warmth and to absorb moisture
Feed wet food (contains 70% water-can add more) the night of surgery and the following morning
After the morning meal, be sure the cat is clear-eyed and alert before releasing back into the area where the cat was originally trapped