Itinerary
6:30 pm: Doors open
Enjoy live music, horderves, the silent auction, and a wine bar. 
7:30 pm: Buffett Style Dinner is served
Starters: Honey Dijon Salad; Herb Buttered Focaccia Bread, Fresh Steamed Vegetable Medley, and Roasted Fingerling Potatoes
Entrees: Granny Smith Apple Salmon, Grilled Tri-tip with an Ancho Coffee Rub and Chimichurri, and Vegan Shepherds Pie
Desserts: individual Key Lime Pie, Chocolate Mouse, and Crème Brûlée
8:00 pm: Program, Live Auction, and Raise Your Paddle
Bid on beautiful works of art and make a big impact on homeless animals in need.
9:00 pm: Live Concert in Lobby
Artist(s) are to be determined, but sure to delight.

Music for the Animals is a black-tie event.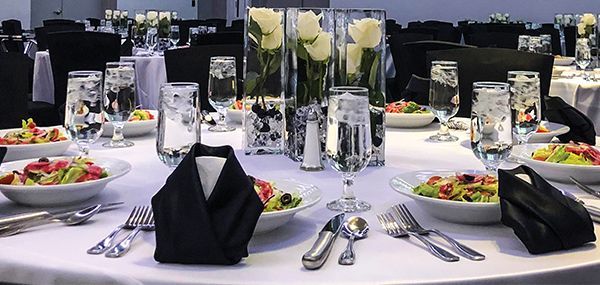 Sponsorship Opportunities are Available
Reach out to our Development Director at jenniferh@thenoahcenter.org to learn more about sponsorship opportunities for Music for the Animals, 2021.