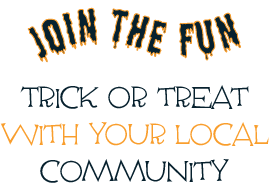 Introducing our brand new event, Wag-O-Ween!  
Join us for a day full of fun trick-or-treating at participating businesses.
We are thrilled to announce the First Annual Wag-O-Ween, to be held at Legion Memorial Park in downtown Arlington. We are receiving an overwhelmingly positive response to the event and can't wait to see you there!

Event-goers will receive a Wag-O-Ween T-Shirt, goodie bag, map, and passport to get them through to each location.
Return back to Legion Memorial Park for live music, food trucks, mingling with like-minded members of your community, and more! 
 October 23rd, 2021
Trick or Treating: 11-4 pm (or until stores close)
Live Music: 2-8 pm
Beer & Wine Garden: 4-8 pm
Food Trucks Open: 11-7 pm
Register now to secure your t-shirt, goodie bag, map, passport, and doggie bandanas for the event!