A Working Relationship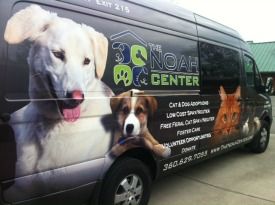 Every good relationship requires open communication and the ability to work together towards a common goal. The NOAH Center has partnerships with over 35 animal shelters. We have a formal agreement of how we work together and a common goal of saving healthy, adoptable and treatable animals from euthanasia.
Our local partner shelters receive the help they need by our "concentric circle approach" to transfers. When we have available adoption space, we call our nearest partner shelters first. If they are not full and do not have animals in jeopardy of being euthanized, we move outward to our other partner shelters across the state. It is estimated that 20,000-30,000 cats and dogs in Washington are euthanized each year according to the recent WA federation animal statistic report. Being able to transfer on a weekly basis from our partner shelters is both critical to their mission and our mission of saving lives.
Our partners know they can call us if an emergency situation arises where they need more immediate assistance. Our purpose is to be their support when they are inundated with animals and need to remain within their capacities. Instead of being faced with the difficult decision to euthanize for space, they can call us and know that these deserving animals will have a place to go so they can find a home.
Our Partners